Content Curation – The Missing Block of Your Content Strategy
Marketing today, especially content marketing has a very different meaning. After the success of social media amongst the audience, communication today has a more practical approach. Vagueness that advertisement so successfully enjoyed earlier is completely gone. Consumers are more interested in transparency. The key to success in present era of internet marketing lies in materialistic information.
People come to you not to read your endless chatter about your product and services, but to add onto their information. They want to hear what's best for them and not how you are the best among others. If you want your online content strategy to be a hit on web, then apart from relevant and genuine content creation, you have to be more exact in curating it.
Many of you might already be doing it without being aware of its terminologies and actual concept. If you have a business account on social networks like Twitter, Facebook, Pinterest, etc. and you have been bringing together the best of imagery and content related to your industry on these platforms, then you are part of the content curation trend.
Steps to Curation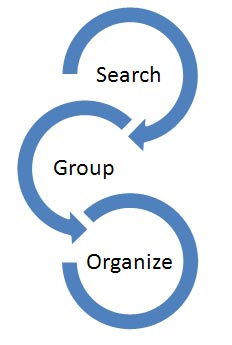 But, few random Tweets from around or sharing a popular article on the Facebook account, doesn't quite fulfill the part or rather need of content curation in your online marketing strategy. We would rather call it the 'missing blocks' in your entire business content.
Rules to Curation
Curation on Social Media
When it comes to curation on your social media pages like twitter or Facebook, post or tweet external content only when it is the best. A medium where videos 30 hours of video are uploaded and 100,000 new tweets are done every minute, what value would a piece of content might enjoy if it does not have the quality to catch attention. Most of the twitterati's that have large followings have been great at bringing together the right kind of content together for the right kind of audience.
Curation on Site
Apart from your social media pages, content curation should be a major part of your in-house blogs and business content creation. Every new bit of content created in your business should target to be a complete amalgamation of that topic. For example, if you are talking about content curation, then you should definitely include this amazing article, 'Why Curation Matters More Than Ever' by Jake Sorofman to present an expert's view on why it is so important in current trends.
Perks of Curation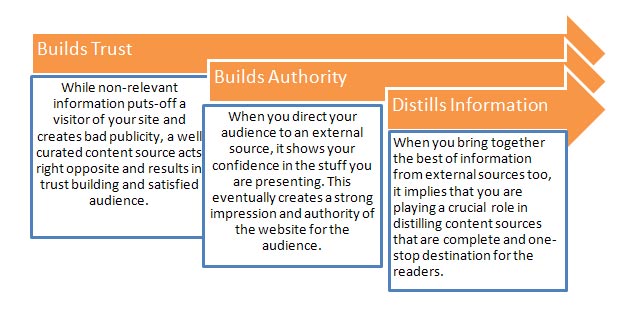 The end result of a well curated content strategy is top ranks on Google, as your content is helping them in creating complete sources of information that are reliable both in terms of quality and quantity. Such content is a win-win situation both for the business as well as the audience.