Liberty Shoes have been fashioning footwear for well over 60 years now. Currently with an annual turnover exceeding INR 600 crore, they are amongst the top 5 manufacturers of leather footwear of the world producing more than 50,000 pairs a day using a capacity of more than 3 lakh square feet of leather per month. It has quality-seeking customers in more than 25 countries, which includes major international fashion destinations like France, Italy and Germany, is our worldwide distribution network of 100 distributors, 400 exclusive showrooms and more than 5000 multi-brand outlets.
Our Approach
Given the great success in their physical stores across the county, Liberty wanted to replicate the same with a classy user experience for their customers online. Providing a similar Brand identity across channels and activating basic omni-channel benefits for ease of purchase experience.
GreenHonchos proposed an upgrade of their UI/UX and a mobile first focus for the front-end. For the backend, integration with their SAP ERP module and continuous improvement to their compliance reporting automations have been great value additions to the business.
Our end-to-end solution starts with the Catalog imaging to complete Digital marketing and Online branding solutions. Within the last 2 years, 800% growth from the online platform has been delivered, while we continue to push the bar higher.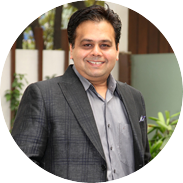 Anupam Bansal
Director – LIBERTY

"Given the great presence of Liberty across Offline markets and online marketplaces, it was also important for us to have a growth focused approach for our exclusive online store as well.

GreenHonchos committed to a business strategy that began with Technology improvements including the Web store and other efficiencies they believed would improve. The ongoing managed services have resulted in 3x business growths in this channel at the outset and growing further quarter on quarter. We're looking to now set new benchmarks of growth and hope that GreenHonchos continues to come up with similar innovative & pro-active support consistently."