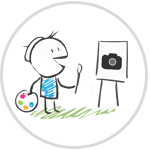 Digital Cataloging
Create a strong catalog to get you best conversions


Photo Shoot
Our catalog photoshoot is not just pictures, but a complete process where a product is shooted at all prominent angles to be suitable for upload on every major online platform.

Editing & Resizing
Our editing team turns your raw catalog into finesse that shows the true value of your product in high quality images. Their master standardization keeps your catalog upload ready for the marketplace.

Content Creation
For every detail that can turn a visit into a sale, the entire content that goes on your online portal is specific, clear and complete. From QC to filling the gaps, our content creation experts take care of it all.