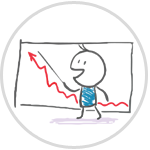 Marketing Solutions
Reaching your target audience via the right platform with the right tools


Search Engine Optimization (SEO)
SEO for eCommerce websites is challenging in terms of how search engines index them. Our in-house approach focuses on 3 aspects – – a) increase and optimize on-page conversion, b) bring new online users who are searching for products, c) maintain ongoing rankings in search engine results – – aspects that add long term value to the business.

Campaign Management (SEM/PPC)
The objective of our digital experts is to made your paid marketing more targeted, cost-effective, convenient, rapid and most importantly – Simple! We monitor your campaigns real time across channels like Google adwords, Facebook ads manager, Yahoo! Search, MSN adCenter and more…

Social Media Management (SMM)
This service is part of social media marketing. It means marketing of your products, events and site on social networking websites just like Facebook, Twitter and blogging sites. The key is to manage your online reputation that is in line with your Brand strategy. We create and manage social media profiles for our clients, which enable to get increasing number of traffic to their sites.

Email & Affiliate Marketing
The ability to bring in immediate click-throughs, makes email marketing it an important medium of communication for online retail companies. While designing your email marketing, we ensure that the campaign suits your brand. The content must be engaging with clear call to action. Our experts take care of such aspects that provide the cutting edge, in addition to working with affiliate channels that drive more traffic to your site.

Creative Development
The importance of effective visuals for your site cannot be understated, as everything that sells on the web is most often determined by how they look on the showcase. From your site banners to landing pages, from static messaging to dynamic creatives both on-site as well as off-site…our Design experts do it all for you.