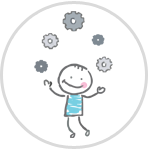 Online Distribution
Expanding your business through channels where it matters


Third party set up and listing
We not only give you a fully functional eCommerce base, but also help you sell with top marketplaces across the Internet space. Right from one time listing qualification to all aspects of your sign up terms, our experts ensure your Brand and Catalog is exposed to large and marketable platforms seamlessly.

Catalog Management
The USP of our expertise here lies in the team's ability to create and maintain distinct catalog formats for all Marketplaces at one go, irrespective of similarities and differences in each of their requirements…both in terms of content and visuals.

Marketplace Operations
Our marketplace ops executives ensure that stock and price edits to your catalog are seamlessly managed across multiple portals simultaneously with inventory sharing, so that you are not burdened with dedicated inventory blockage. Additionally, we centrally manage all order management through individual portals as well as shipper coordination and manifest creation.