Posted on - February 16, 2022 | Read 8 min | By GreenHonchos Team
Build A Robust eCommerce
Marketing Strategy To Scale
Exponentially
In the fast-paced world of eCommerce, it has become pertinent to catch up with the latest trends and map your brand's growth. In 2019, the global eCommerce market was valued at USD 21.8 Trillion and the Indian eCommerce market was valued at around USD 22 Billion. Apart from the ever increasing rate of internet adoption and proliferation of digital devices, COVID-19 specifically fueled the growth of the Indian D2C eCommerce market at an unprecedented rate and now almost all the major brands are taking the D2C way to realise their true potential. Amidst all this rush to try to serve consumers better and scale their online businesses, many brands are looking to formulate the perfect eCommerce Marketing strategy. Before we get into the nitty-gritty of it all, we need to understand what eCommerce Marketing Strategy is.
What is an eCommerce Marketing Strategy?
Simply put, eCommerce marketing is the act of rallying visibility & conversions toward a business that sells its product or service electronically. Some channels that marketers use to get the results digitally are social media, digital content, search engines, and email campaigns.
To achieve economies of scale, increase efficiency and reduce operational costs, almost all eCommerce companies use a partner agency to achieve their desired results as the in-house data does not provide a versatile point of view of the market. With the help of a Growth Marketing agency, marketers can get access to new-edge technology and a holistic view of the wants & needs of consumers for formulating a perfect D2C growth strategy to attract their target audience.

The Definitive eCommerce Marketing Checklist 
In order to formulate the best eCommerce Marketing strategy, you need to factor in key growth elements which can lead to sustainable growth of your eRetail brand online. Here is a definitive checklist for your next D2C eCommerce marketing strategy:
1. Original Content
Writing original content which is deep rooted in your brand ethos, appeals to you consumer persona and leads to an audience building is an absolute must for your eCommerce marketing strategy. Content amplification that contributes to customers resonance and gives them something to take away from it will lead to brand engagement. One way to do this is to produce original content that gives a holistic view of the topic at hand. Original content also does better on Google and will rank better than commodity content which only gives readers a superficial view of the subject.
Utilising social listening and monitoring, you need to write blogs, share listicles and make product videos that can deeply explain the technologies involved and how to use the products or services the best. Mini videos on office life, employee stories, product demos, real-life use cases etc. do very well and resonate with the customers, portraying a human connection of your organisation.
2. Website Layout
An important part of your growth marketing strategy should be constructing a minimalistic UI that ensures the user on your website has a good experience. Get regular checks of your website's layout, language, and placement of conversion elements done and do an analysis of your website session time to find weaknesses and leakages. A proper sitemap will make sure that the people redirecting to your website have a clear view of where they are and where they want to go.
3. Inbound Content Marketing
Content marketing plays a large role in gaining organic traffic. When you go about making a D2C eCommerce strategy, you need to focus on pushing out tailored content which is strategic, valuable, relevant and addresses the problem statement of an end-user. Content Syndication and content amplification will make sure your message reaches the largest relevant audience A large part of your marketing budget can be saved if you focus on high-quality, consumer-driven content that works on getting the people interested in your products and services organically, instead of interrupting them with ads while they're browsing. Inbound marketing also ensures a higher conversion rate, repeat customers and brand recall.
4. Social Media Marketing
To increase your CLV & RLV, you need a strong connection with your audience. Social media marketing is the usage of social media to communicate your organisation's messages to all the relevant stakeholders, and implementing social listening and monitoring to increase content relevance. It is a large part of an eCommerce marketing strategy. Chances are, the eCommerce digital marketing services agency you are looking for also offers social media management. Social Commerce is an emerging field, gaining more and more traction. If you are a budding eCommerce company, it can effectively communicate your messages to relevant audiences without burning a hole in your marketing budget. 
Read more on the top social media marketing companies.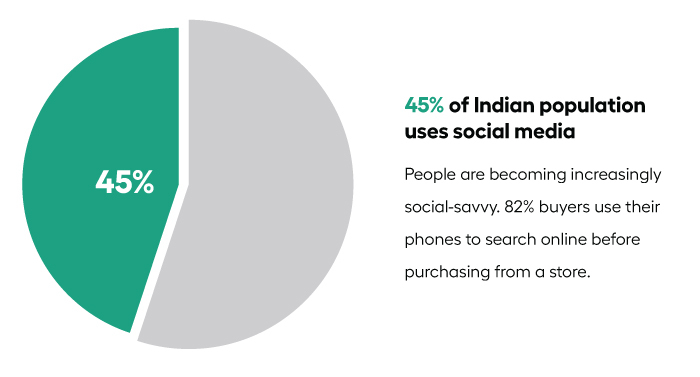 5. Email Marketing
Email marketing is a brilliant way to reach out to your existing customers and give them a nudge towards coming back and also push forward new customers towards the end of the purchasing funnel. One of the most effective ways to communicate with your audience is through email marketing. Since you have the option to segment your contact list, you can send a more personalised email to your customers, depending on what they want or need. You can test your audience through this, get to understand what works best with them on the ground level. Email marketing has been around for so long since it works and can offer up to 4400% ROI. Original, creative and effective content is needed and for D2C eCommerce, the quirkier it is, the better.  
6. Search Engine Optimisation
To make sure that your products, services and brand name pops up on the first page of search across search engines like Google, Bing, Yahoo etc., you need to invest in a good SEO growth marketing strategy. The first five organic results are responsible for 67.60% of all the clicks. To keep your page popping up first on the first page of Google, businesses must keep their website hygiene in check and do timely SEO audits of their website.
7. Pay-Per-Click Advertising
PPC ads are the form of ads which you see on top of the search results on your search engine. Wildly popular on Google, PPC uses a certain model in which you only pay for the clicks on the search engine. A good PPC eCommerce marketing strategy uses three elements – the ad, the offer and the landing page. For maximum ROI, you need to make sure that your ad is attractive, offers the best deal and your landing page is smooth and coherent for the end-user. PPC advertising relies heavily on your keyword strategy, thus, working closely with your SEO team will result in a great ROAS on your next PPC campaign.
8. Mobile Optimisation
Often an overlooked factor, mobile optimisation plays a big part in conversions as more and more people come online through their smartphones. Out of the 749 million internet users in India, 744 million users access the internet via their smartphones regularly. Thus, to get the most ROAS, you need to optimise your website for mobile as well. Making your website agile to be able to look like an app or scaling the text and font in a way that mobile users can access it easily, you need to deploy UX strategies that can help you convert visitors into repeat customers for growing your D2C eCommerce business.
9. Retargeting Through Ads
In the search for lead generation and unique visitors, more often than not, an eCommerce agency might not focus as much on retargeting through ads. You need to use AdTech & MarTech technologies to make sure that the growth marketing strategy for your eCommerce company is focused on retargeting too. Retargeting, simply put, is using ads to reach out to the people who have previously visited your website and did not take an action. This set of the audience has already shown their interest in your products or services and thus, are more likely to purchase than a new audience. Displaying your ads with the intent of getting them back to your website and converting them is the main focus of a retargeting campaign. 
10. The Human Factor
Although social media is the best way to make your organisation seem more human and personalised to your audience, there are multiple other ways to improve your eCommerce marketing strategy. Sending out personalised emails without pushing products on your customers, making UI more experience-focused and taking reviews and suggestions seriously and acting on them are some of the small ways you can win the end consumer. The Human factor will ensure that your business achieves brand recall and even turn some people into brand loyalists.
11. Focusing On Emerging Technologies
It is highly recommended that your business can adapt to new technological changes if it is not at the forefront of them. There are a lot of new technologies coming in like VR, wearables and Metaverse that can revolutionise your D2C eCommerce company and we are barely scratching the surface. The possibilities are limitless.
For more tips on growth marketing, sign up for our newsletter! If you are looking for a Brand Marketing agency that understands the needs of your D2C eCommerce, check out GreenHonchos – a Full-Stack D2C enabler offering services like growth marketing, eCommerce digital marketing, marketplace management, social media marketing and much more! For more tips & tricks on eCommerce marketing and D2C growth strategies, follow us on LinkedIn, Facebook, Instagram and Twitter or visit our website  to know more about our services.