Posted on - June 22, 2022 | Read 10 min | By GreenHonchos Team
Which eCommerce platform is best for your D2C business?
The post-pandemic world has made brands realise the importance of having an exclusive online channel that gives them complete control over their marketing efforts, the CX they provide, theirstory of Snitch – an online exclusive D2C brand that began operations in 2020.
The D2C mad rush is partly due to go with when you take your brand online?
The Holy Trinity – Launching, Scalability and Profitability
An eCommerce platform is the lifeblood of your online business, running deep in not only the day-to help you choose the best for your buck.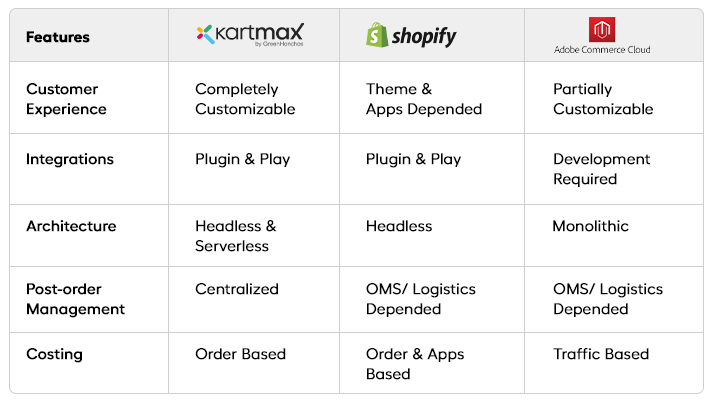 The current players – KartmaX, Magento and Shopify
Kartmax – Headless, Serverless and AI-Powered
KartmaX by GreenHonchos is an enterprise-grade eCommerce platform which has grown significantly in recent times becoming the preferred platform for brand leaders and developers' in the eCommerce ecosystem. The platform offers brands complete custo scale and grow their business. It employs and supports all the latest technologies like Progressive Web App (PWA), Jamstack, Serverless, Service-oriented architecture and Headless commerce. Being born in India for the world, KartmaX also has specifically designed modules fit for the Indian context like Fraud Detection for COD-based orders, reduction in RTOs, Pincode blocker, Search AI, KartmaX checkout and many more.
KartmaX is AI-powered and on the front-end, its sophisticated technology chooses autom or start with a readily available conversion-focused design template.
KartmaX has a serverless architecture that gives significantly reduces the hosting expenses on a pay-per-use model. As the traffic is usually non-uniform, some days your brand website might experience large traffic while some days the number might be quite small. A Serverless system allows you to invest heavily in large capacity servers during high volume sales time and then have no use of them on BAU days.
On the account reconciliation front, KartmaX allows you to your commands as well.
One place where marketplaces win in comparison with D2C websites is the post-purchase experience. Order tracking is really important for custo shoppers on every purchase
Moreover, if your customer funds seamlessly.
Magen to – The Legacy Monolithic Platform (now Adobe Commerce)
Magen tomer experience (CX).
As Magen to be easily created.
Being a monolithic platform, however, Magento a slower speed.
The structure of Magento a tailored-fit experience.
Magento continuously invest in multiple load balancing servers which can increase the cost. The flexibility also ends here as the nature of online traffic is such that it dwindles in numbers. You might expect thousands of sessions a day, for which you would need multiple servers and yet see the traffic in hundreds, rendering the additional server capability useless.
Shopify – A new-age SaaS platform
Shopify is a new-age easy-to go online with very lessto USD 2000 per month, depending on the version you choose to opt for. For bigger businesses, Shopify has a transparent variable fee model that generally is a small percentage of the revenue that a brand generates on its platform.
To start with Shopify's wildly popular feature, the drag and drop theme builder, offers you an easy system that makes it easy top your marketing efforts, depending on the analytics and insights derived from real data.
Shopify has a flexible payment model which allows youto run with almost no in-house team of developers.
Shopify is inherently faster than a monolithic architecture, owing to this reason, Shopify also has fewer bugs than a legacy platform.
This was a comprehensive guideto see your strengths, improvement areas and opportunities for growth.
Are you looking for an eCommerce technology partner that understands the needs of your D2C eCommerce? Check out GreenHonchos – a Full-Stack D2C enabler offering services like D2C technology, growth marketing, eCommerce digital marketing, marketplace management, social media marketing and much more! For more valuable insights on eCommerce marketing and D2C growth strategies, follow us on LinkedIn, Facebook, Instagram and Twitter or visit our websiteto know more about our services.