Posted on - April 19, 2022 | Read 10 min | By GreenHonchos Team
In-House vs. Agency Marketing | For eCommerce Brand
We are living in a digital age where every brand is coming aboard the D2C train and focusing their D2C growth strategies on tech autotal marketing budget, followed by online videos which make 28% and paid search making 24%, leaving the rest of 19% for other expenses.
Since digital marketing is inexpensive and easy to focus so heavily on their digital marketing efforts, they need people who can market their products and services as well as get the brands' communication across. We stand at a crossroad where marketing and experience are synonymous and this begs the question, where do you invest your brand's marketing in, an in-house marketing team or a partner agency?
What is an In-house Marketing team?
The In-house Marketing team is a special unit within an organisation whose sole purpose is to serve the audience's needs and demands.
In-house marketers are paid by a business to give out. They are also more adept at communicating with other teams of the organisation as they work in the same space and are in close contact with each other, making the approval process easier.
On the other hand, In-house Marketing teams are often plagued by inter-departmental dependencies, shifting priorities, a one-dimensional view of campaign ideas, limited to start showing results since the agility of an in-house team is quite low.
What is an Agency?
Simply put, Marketing Agencies help organisations execute and manage their marketing efforts to get a detailed and coherent campaign.
Most of the big brands use Agencies along with having an In-house Marketing team since they are inherently more creative and tend tools and software since they have a talent pool working in different functions that require the aforementioned software. Agencies also perform frequent check-ups on their campaigns, modifying them for maximum optimisation as they go.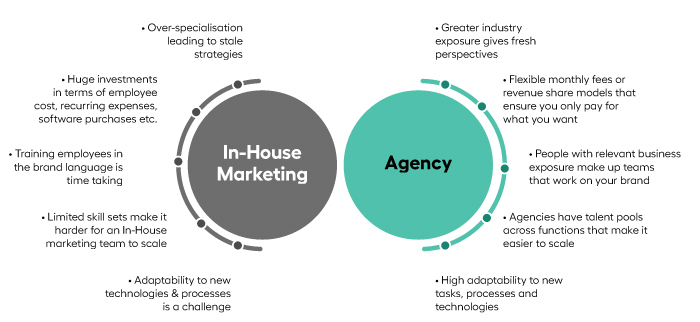 In-house Marketing v/s Agency
In-House Marketing Team
Agency
Brand Familiarity
Familiarity with the brand makes it easier for them to set objectives or modify them in real-time, as the organisation wishes.
The client success team at an Agency makes it easy for brandsto vast resources, ensuring no communication gap between the stakeholders and delivering optimum performance as and when needed.
Technology
Tools and software are seldom expensive and the limited capabilities of the In-house marketing team make it harder for them to all the to their requirements.
Functions
In the same vein as the point above, In-house Marketing teams have limited capabilities as they are hired for singular tasks, leaving a large gap in the marketing efforts of an organisation.
Agencies have a large talent pool that works across domains, offering 360 degrees marketing services required by brands for achieving desired objectives of an organisation.
Working Processes
In-house marketing teams, owingto the close communication with the organisation, often face shifting priorities, different processes and workload which makes it harder for them to specialise in one thing and most of the time, they end up hiring a specialised agency to get the work done.
Agencies can easily take the burden of different workloads and processes and the tasks which can't be done parallelly, they do sequentially, eventually checking everything off the list according to deadlines as deadlines are priority one.
Scalability & Profit
Scalability is often limited with an In-house marketing team since it requires more leads, more sales, more revenue and more business in the shortest amount of time and as the In-house marketing team's functions are limited, so is the scalability.
Agencies are focused on completing and over-delivering on the marketing objectives set by the organisation, thus, making it easier for them to contribute to the organisation's scaling process.
Cost
In-house marketing teams are more expensive to build as the organisation has tools, software and much more.
Agencies are cheaper and more flexible in terms of payment. You can opt for monthly subscription fees or revenue share models which are directly tied with the organisation's performance and marketing objectives.
Multidimensional approach
For different processes, the In-house team has to hire a:

Marketing DirectorDigital Marketing Manager Public Relations ManagerMarComm SpecialistSocial Media Strategist
And other people in the team.
For the same diverse processes, Agencies have to only look at five different existing teams that can get the work done. Here are the different functions of an agency:
SEO Digital Marketing Website Designing & Development Social Media Management Marketplace Management Creative Designers
At an agency, all of the teams are well-defined, in the process and ready to onboard & deliver from day 1.
Hiring Objective
In-house teams are specially hired to realise the goals of the organisations across different verticals of marketing like integrated marketing campaigns, digital marketing, social media marketing, search engine marketing, search engine optimisation etc.
Thus, most of the brands find it easierto deliver best performance and results.
If you are looking for a Online Marketing agency that understands the needs of your D2C eCommerce, check out GreenHonchos – a Full-Stack D2C enabler offering services like growth marketing, eCommerce digital marketing, marketplace management, social media marketing agency and much more! For more tips & tricks on eCommerce marketing and D2C growth strategies, follow us on LinkedIn, Facebook, Instagram and Twitter or visit our website for more information.