Posted on - April 19, 2022 | Read 9 min | By GreenHonchos Team
Your Definitive Guide To The Digital Marketing Basics
Digital media accounted for 64.4% of global ad spend in 2021, up from 60.5% in 2020 and 52.1% in 2019. As digital media steps into the role of a goliath, Digital Marketing has taken an integral part in the success of eCommerce businesses. If you want to scale your business and make it profitable, you need to invest smartly and heavily in the digital marketing efforts of your business. Digital marketing will boost your brand's awareness and make it come in front of your target audience, eventually leading to an increase in sales, brand recall, and repeat customers.
To get started with digital marketing, it is important to understand your intentions and objectives. Taking note of your business goals in a strategic, step-by-step fashion and then considering the useful channels is better than jumping onboard every single channel available. Let's take a deep dive into more Digital Marketing basics to get you up to speed on how to use it to your advantage.
What is Digital Marketing?
Digital marketing is the promotion of an organisation's marketing efforts using the Internet and other digital channels such as social media, paid advertising, search engine marketing, email marketing etc. Digital marketing gives great control over the marketing processes to the marketers, making their campaigns more trackable, giving them the option to optimise them as the public reaction comes in and retargeting the customers who show interest in the product or service.
Due to the emergence of smartphones and access to cheap and high-speed internet across the globe, digital marketing has taken precedence over other forms of marketing. In 2022, 73% of all digital ad spend is projected to be disseminated through mobile devices.
Here are some of the widely used forms of digital marketing:
Search Engine Optimization (SEO)
Pay-Per-Click (PPC)
Social Media Marketing (SMM)
Content Marketing
Email Marketing
Influencer Marketing
Affiliate Marketing
PR Wire Networks
Advantages of Digital Marketing
There are multiple advantages of Digital Marketing over other forms of marketing, ROI being one of the biggest ones. As per industry reports, Email marketing provides around 4400% ROI, and Google Ads & Social Media platforms can lead to anywhere from 200% – 1000% ROI or even more, depending on the messaging, ad hygiene, creative and other qualitative factors. This is enough to show you how big of an advantage, in terms of ROI Digital marketing gives. Apart from the ROI and great ROAS, things like reachability, the ability to home in on the target audience based on their demographics, interests and behaviour is also advantageous. Here are some other advantages of Digital marketing:
Attribute Targeting: Through audience segmentation, you can segment your audience and modify your communication to suit their needs the best. Target marketing works especially well since the audience feels that there is a personal connection between the brand and the individual, making them recall the brand, trust it and become a brand advocate.
Cost-effectiveness: Digital marketing is also more cost-effective than other forms of marketing. You can continuously evaluate your campaign, modify it or stop it according to its performance, unlike in other forms of marketing where you need to spend a lot and have limited control over the modifications of the campaign.
Easy Measurability Through Defined KPIs: Digital marketing across platforms gives you a whole suite of tools through which you can track not only the audience reactions & sentiments but also impressions, click-through rates, actions, conversions and much more. In offline ads, it's not possible to track the campaign performance since it's difficult to track the customer footprint.
Customer Reach: As you take your business online, you get the chance to reach customers around the globe. Anyone from anywhere can look at your products and services and order online, provided you deliver to their place. With such great potential, it becomes increasingly important to gain the ability to market your offerings to the audience. Through digital marketing, you can easily target people from any country or region and make sure they get to see your marketing communications.
Seamless Experience & Convenience: A digital ad is made of 5 five key elements – Creative, Caption, Message/Offer (if any), USPs of the product and a Call To Action (CTA) button. The CTA buttons are well defined and clear so if a customer sees your ad and is interested in knowing more about your brand, getting frequent updates from your brand or looking to purchase your product or service, they are just a few clicks away.
To know more about Digital Marketing and its advantages, check out this blog.
Strategising the different tenets of Digital marketing
A good digital marketing strategy relies on marketers using all the relevant tenets of digital marketing in tandem. This results in a robust marketing strategy that covers all the bases and gives you effective & measurable results. For example, if you are looking for a strategy that focuses on brand awareness and also drives sales, you can use SEO, PPC, social media marketing and other digital marketing campaigns to boost your visibility and make people interested in your offerings.
Performance marketing is usually the preferred way of digital marketing as it provides large returns on small investments, where ROIs can range from an average of 2X to 20X, i.e., 200% to 20,000% on what you spend. Sounds good, right? Let's look at some of the different verticals of digital marketing and get to know how to best use them:
1. Performance Marketing: Performance marketing is a type of advertising where the advertiser only pays when a certain action occurs. This action can be anything from gaining a lead, making a sale, the viewer clicking on the ad etc. Performance marketing is one of the largest paid marketing channels and includes the following types of marketing:
Social Media advertising
Sponsored advertising
Affiliate marketing
Search Engine Marketing
2. Social Media Marketing: Using social media to promote your brand and its products or services is a part of social media advertising. Marketers use platforms such as Facebook, Instagram, LinkedIn etc. to display ads to their audiences for various purposes, be it sales, increasing follow count, getting more social engagement, making people aware of the brand etc.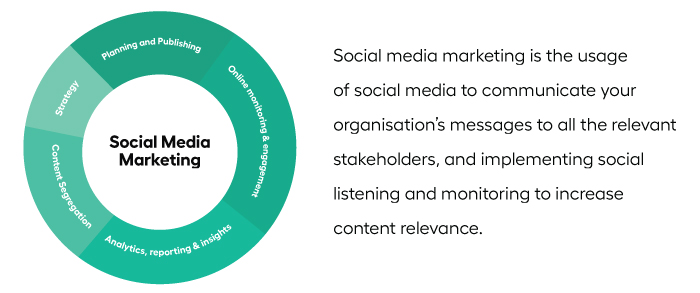 3. Sponsored Advertising: Sponsored advertising is when an organisation pays to be a part of a specific event of another organisation or for their content to appear on their website. This content can include their PR Articles, Display Ads, Promotional Videos etc
4. Affiliate Marketing: Affiliate marketing is when an organisation pays individuals like influencers, bloggers, celebrities etc. to promote their products and services to generate sales. The affiliates then place the organisation's ads and market the brand's products and offerings and are paid a commission every time someone converts through their ads.
5. Search Engine Marketing: Search Engine Marketing, commonly known as SEM is when an advertiser has to pay for getting the search result on the first page using PPC ads. Pay-per-click is an ad model in which the advertiser pays for every click. PPC is majorly used on search engines where at the top of search results, you can find the relevant ads from advertisers. Google Adwords is one of the most popular platforms which uses the PPC model for advertising.
Beyond digital marketing there are other organic means of digital marketing like Search Engine Optimisation. SEO is the process of optimising your website to appear in search results of search engines. Although SEO is free and not a part of paid digital marketing, if you are focusing on getting more real estate on websites, you have to invest in SEO too. It's an extremely important domain as 93% of all website data is driven through search engines. Search engines like Google, Bing, Duckduckgo etc. use 'crawl bots' to index websites according to keywords.
Thus, if your website has a good keyword strategy, it's bound to appear on the first page of the search results. SEO also requires you to do other basic website hygiene maintenance like using alt tags, image tags, meta titles, meta descriptions etc. so that the website visitors are well informed on what they will find on the webpage.
Using digital marketing strategies can drastically increase your brand awareness which ultimately leads to more sales and repeat business. Looking for a Digital Marketing agency that understands the needs of your D2C eCommerce? Check out GreenHonchos – a Full-Stack D2C enabler offering services like growth marketing, eCommerce digital marketing, marketplace management, social media marketing and much more! For more valuable insights on eCommerce marketing and D2C growth strategies, follow us on LinkedIn, Facebook, Instagram and Twitter or visit our website.