Posted on - June 21, 2023 | Read 10 min | By GreenHonchos Team
Content to Commerce: Building The Narrative To Drive Conversions
The D2C brands had exponential growth during the epidemic, but it has since reached a ceiling and has been sharply declining ever since. Reason: Staking everything on select mainstream platforms and enhancing brand performance solely through paid marketing only! For D2C brand leaders across industry verticals, there are now more reasons to be concerned than ever before due to the growing number of players entering the direct-to-consumer market, the constantly evolving algorithms of mainstream platforms, and the availability of limited real estate to attract customer attention.
Broad-basing Channels of Outreach
Broad-Basing your marketing channels is the need of the hour. And the most tangible and essential factor in the same is the content you choose to fabricate your touchpoints.
Content syndication and the use of a unified brand story across platforms will ensure a strong brand recall amongst your consumers when they are looking for relevant products in the market.
The idea is to build up a compelling story around the brand and use as many touch points as possible to deliver the narrative to the customers. This way the customers have every bit of information about the brand readily accessible, helping them make the decision to buy.
Improves Funnel Push
When you build up content around the brand and have it spread through digital mediums like social media platforms, blogs, podcasts, newsletters, webinars, videos, product reviews, etc., you build a strong personality for the brand with excellent recall value.
A brand with clear communication about itself and its benefits can get customers from the bottom of the buyer's pyramid to the top relatively faster than a brand that doesn't have its communication in order.
Reduces RTOs
Brands are bound to reduce RTOs considerably with clear communication. Since the brand has already built a reputation using comprehensive communication from the get-go, customers already have a preconceived notion about its products and services. In such a case, the chances of the brand not meeting its customers' expectations is highly unlikely. And thus RTOs consequently decrease.
Search Engine Likeability
Consumers are no longer looking to buy products that only suffice their needs. They want to have a personal connection with the brand and its products.
Search engines know that search queries have certain intent behind them. And the brand that best serves that intent comes on top of the search results, enhancing its click-through rate and on-page engagement.
Thumb Stopping Communication
With such a large number of digital mediums and a plethora of brands online, it can be challenging to reach an accurate audience and make the right impression.
In such a crowd, your potential new customer might be paying just as much attention to your competitor's online reviews and social media promotions as they are to your carefully constructed marketing campaigns.
With clear communication and a gripping story, brands can generate messages that cut through the noise and deliver results.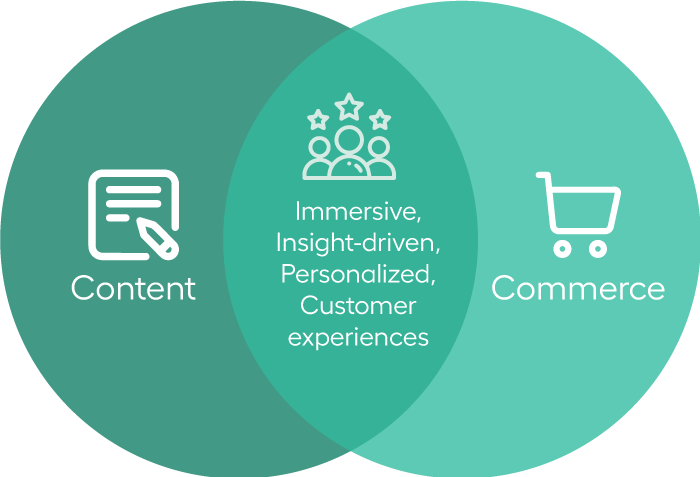 Content to commerce is like vitamins and minerals
In a digital world where every brand is focused on pushing their sales, content to commerce comes as a holistic way of growing your brand.
Paid advertising and performance marketing are like steroids for your brand. They can push your brand ahead faster and to a wider audience. Nevertheless, the timeline of your brand's growth will be limited.
Content to commerce, on the other hand, is like vitamins and minerals for your brand. It is essential for your brand's long-term growth and the best way to ensure the brand has a lasting impact and a strong recall value among its customers.
Metrics like AOV (Average Order Value), CLV (Customer Lifetime Value), and RLV (Retail Listings Visualisations) are impacted by CTC (Content to Commerce).
Age-old digital adage – Content is king
The entire digital customer journey should be supported by content, from the initial idea, through product selection and purchase, to the use of the product after purchase. Customers must be able to access the content they need at any digital touchpoint.
Content creation is becoming a major contributor to engaging customers and opening up new channels for marketing as the focus on paid marketing alone in India is waning. Brands are leveraging content marketing strategy to achieve competitive advantage and draw clients to their business by creating original and diverse content on a frequent basis.
As digital marketing becomes omnipresent and the majority of brands use digital real estate to promote themselves and their products, how do you differentiate to delight consumers into coming to you? How do you make your marketing efforts seem organic and really tap into the ever-shifting consumer intent?
Differentiating to Delight Consumers
Today's customers are spoiled for choices and constantly look for brands that can engage them.
Brands that can attract people and build a community are the ones that are gaining more audience, getting more conversions, and ultimately building a commendable reputation among its customers and prospects. This goes on to consumers turning into brand advocates who give constant support and are early adopters of horizontal or vertical scaling of the brand.
How to make Content your Organic growth driver?
For your brand competing in the 6 major segments of the D2C sector, chances are you're not dabbling with a niche product. If you are not, that means that the 7 Ps of your product's marketing, that is, Product, Price, Promotion, Place, People, Process, and Physical evidence, are going to be very similar to your competitors in the same market. While you can differentiate in Price, Place, Process, and Physical Evidence, it would be a tough nut to crack the other 3 Ps. The only way to drive changes in those aspects is to create unique content.
Content is one way to vastly differentiate your Product, Promotion, and People and use your brand narrative and user experience to motivate consumers to choose your products and brands over the competition.
Can Content drive down the Customer Acquisition Cost?
In the simplest terms, yes. The process, however, is something you need to strap yourself in. Content to commerce, again, is a long-term investment that needs focuses strategy. Average Customer Acquisition Cost (CAC) across platforms has increased over the years due to the D2C clutter and an increased focus on paid advertising.
There is vast evidence that paid marketing efforts are driving brand awareness and assisting place the brand in the person's subconscious. However, the consumer fatigue kicks in over the period of time due to the constant targeting of ads and the efficacy of the strategy goes down severely.
Organic marketing tactics are centered around the content that can engage the consumer. Engaging content drives down the CAC, making way for content to be an effective growth driver for your marketing efforts.
Enhancing the User Journey through Content
According to recent studies, digital proliferation and increased use of multiple channels of marketing has the sales funnel beat. The basic model of Awareness -> Consideration -> Purchase is rendered ineffective due to the multiple touchpoints through which the audience interacts with the brand.
Adding on, studies have shown that most user journeys don't even resemble a funnel anymore, now they look like a prism, a diamond, an hourglass, a trapezoid etc. User journeys are more 3D, they move across dimensions and include more touch points and are constantly changing due to intent-change and evolution of the consumer. In modern marketing, no two user journeys are the same and that's why the role of content is redefined as an important factor in enhancing user experience & journey.
Tracking user intent and delivering tailor-fitting content according to their needs and demands, giving A+ content, updating reviews, giving comprehensive guides, answering questions, setting up query hotlines, building comprehensive FAQ pages, curating FAQ videos, keeping users informed through email marketing, tracking new ways to increase touch points with the consumer and broad basing the communication channels are some of the ways to enhance and strengthen the user journey through content.
The brand communication must be clear, the brand positioning must be transparent and the marketing efforts must speak to the relevant audiences in tandem.
Final thoughts
Language and words bind people together. Your clients are real people. Offering them stuff that may inform, inspire, and excite them is the first step in developing relationships with them.
As you build long-lasting relationships, integrating a content marketing plan with your online business can boost conversion rates while also enhancing client retention.
By providing you with top-of-the-line solutions for both a frontend content management system and a backend eCommerce powerhouse, Headless is one possible route to developing a solid content marketing strategy.
Ready to take your brand online? GreenHonchos can prove to be a growth partner for your brand. Helping kickstart, execute and manage the growth of over 200 leading D2C brands, GreenHonchos is a leading full-stack D2C enabler offering services like growth marketing, eCommerce digital marketing, marketplace management, social media marketing and much more! For more valuable insights on eCommerce marketing and D2C growth strategies, follow us on LinkedIn, Facebook, Instagram and Twitter or visit our website to know more about our services.