Posted on - June 24, 2022 | Read 5 min | By GreenHonchos Team
What is the Marketplace model of eCommerce and how to leverage it for scale?
There is no denying the fact that marketplaces have been the biggest driving forces in establishing eCommerce on a global scale since the early 2000s, with Amazon being at the forefront of this drive. Amazon came out in the late 90s as an online bookstore marketplace and now has taken the world by storm by being the largest online marketplace. India witnessed an eCommerce revolution at the beginning of the second decade of the 21st century with the entrance of Amazon, Flipkart, Myntra, Jabong and others making way for the migration of offline consumers to online marketplaces. The biggest challenge for this was the distrust of the Indian consumer of the Internet and its commodities.
Marketplaces initially suffered in India due to this. The concepts of returns and exchanges of products were fairly alien across the western marketplaces and the consumers were agreeable with that. The Indian consumer, on the other hand, is very used to getting returns and exchanges done seamlessly offline and is more of a hands-on trying out person. To solve this, marketplaces in India revolutionised the online consumer's shopping experience, providing Cash on Delivery options and a robust no questions asked exchange/returns process. Powered by heavy marketing campaigns, Amazon and Myntra championed the trust of the consumers and made way for penetration in not only the Tier-I cities but also the bigger markets in Tier-II cities.
In September of 2016, the launch of Reliance Jio paved the way for accelerated internet usage. Disrupting the market with zero data charges and then moving towards bare minimum charges solidified India's tech dependency. It was then that the penetration happened in the Tier – II & III cities the most. Consumers from these markets were experimentative, and bolstered by their belief in the exchanges and return policies, they stormed the marketplaces to make their purchases.

Now we stand in 2022, where everyday small purchases like food, groceries and FMCG products are offered through instant delivery reliant models like Blinkit, Swiggy Instamart, Zepto etc. As for the other categories like Fashion & Lifestyle, Beauty & Personal care, CPG, Pet Care, Baby Care, Home & Homeware etc. shoppers are frequenting marketplaces as well as the brand's D2C website for making a purchase. The mass digital proliferation, cheap data plans, and flexible exchanges and returns policy of marketplaces has made way for more and more buyers to shop confidently online for everyday products.
Where the marketplace stands out for brand owners and marketers is the initial push in terms of brand reach, engagement and conversions that your brand can get. To better understand how to kickstart your brand on the marketplace and how to market your brand better, read further.
What is the Marketplace Model all about?
The Marketplace model of eCommerce provides a website or an app-based platform for a business to sell its products online. In this model, the Marketplace acts as a facilitator between buyer and seller. The role of mediating the purchase process between buyers and sellers has proved to be wildly popular all over the world with the biggest players like Amazon, Flipkart, Myntra etc. connecting millions of businesses to billion of customers across the globe.
The Marketplace model can be a great growth driver for brands looking to start their online journey and can enable them to reach a pool of buyers very soon, without having to manage each step of the eCommerce value chain directly. To supplement this growth, brands also explore the D2C model for claiming the ownership of their frequent buyers and build a sustainable business model for scaling profitably online.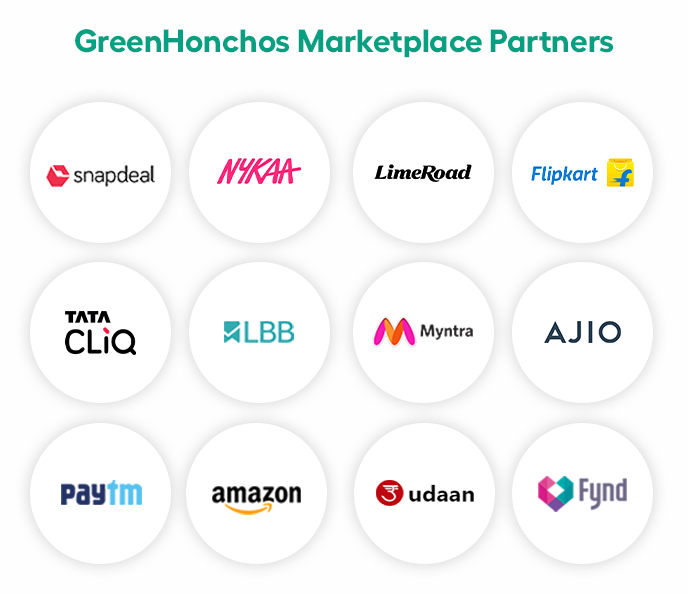 How Marketplaces can help your business
Marketplaces can give you advantages that can be easily leveraged to drive more attention to your business and get more conversions across channels. Here are some ways marketplaces can help you achieve your online commerce goals:
Brand Awareness:
Marketplaces keep your products in the forefront, which allows your brand to share the same digital real estate with the big players in the same segment. Brands on marketplaces are also considered to be genuine, carrying the surety of the aggregator, making your brand seem more genuine and enabling customers to feel free and be more experimental.
Cost-effective Model:
Since marketplaces take a small percentage of your earnings, in the beginning, they can be cost-effective for new brands who don't have to spend too much on marketing their products. The complete responsibility for the initial launch and take-off falls on the marketplaces. Marketplaces also have more reviews and thus, people who are happy with the product will spread the good word around.
Risk Abatement:
Since the majority of the risk about supply-demand management, delivery, warehousing, logistics, returns and exchanges etc. fall on marketplaces, you as a brand can focus on building your product and your exclusive channel while making sure you have good stock movement, healthy stock cover, capital for R&D and marketing.
Organic Marketing:
Marketplace websites have a high domain authority and a lot of web hygiene exercises are regularly done by them. This means that your brand or your product category will shine on the front page of google, urging users to tap on it and convert. Additionally, the trust of marketplaces due to their flexible return policies and years of business with lakhs of customers will make your new brand seem genuine in front of people.
Instant Scalability:
Marketplaces give you a chance to scale your business initially by helping you engage thousands of potential customers. If your product is high-quality and brings something new to the table, you can rest assured that a lot of new customers will be jumping on board the bandwagon and give you rave reviews, which is essential for growing brands.
Horizontal Growth:
Marketplaces have different categories and usually sell multiple categories. This includes Electronics, Fashion and Apparel, Footwear, Personal Care and Beauty, Home and Homeware, Furniture, Food and Beverages, FMCG etc. Thus, it's easier for new retailers to expand on their horizontal growth early and scale up their offerings.
Product Range:
Today's customers are spoiled for choices. To make your brand a success in the initial months, you need to showcase all of your products and give the customers choices that they can choose from. You can showcase all of your products on marketplaces without worrying about the cost incurred to make multiple PLPs or waiting to upload your stock. This way, small brands can use marketplaces to supplement their growth in the initial days easily.
Growth Incubator:
Nowadays, for selected top-quality brands with interesting offerings and high growth potential, marketplaces are offering growth incubator or startup accelerator programs. These programs ensure that your brand and range of products get the maximum exposure and conversions and have the backing of marketplaces like Myntra, Amazon, Flipkart etc. Your brand can make the cut for these accelerator programs depending on the investments, exit values, and business areas. After getting the proper awareness around your brand, you can easily work towards making your D2C channel more successful as well.
Managing Marketplaces 101: GH Approach
Our full-stack offerings at GreenHonchos also cover your brand listing and promotion on 12+ top-performing marketplaces in India.
Channel Management
From onboarding to listing as well as the competitive intelligence in category and operations management, we create an optimised end-to-end strategy across all marketplaces through risk mitigation and process-driven scale-up.
Merchandising Inputs
Apart from calculating sales velocity, incorporating lead time and predicting sales spikes of merchandise, our team stays updated with competitive trends, and product & price positioning strategies to complete the merchandising cycle for brands.
Multichannel Inventory
Driving efficiencies of stock across channels to achieve maximum sales is our primary goal. Suggestions on regional utilisation, inventory model selection, implementation & returns management are factored into our planning process.
Sponsored Marketing
Marketplaces continue to innovate with diverse advertising options. Our team keeps a laser-sharp focus on ad spend and delivering the ROI through strategic approaches such as competitive pricing strategy, multiple fulfilment modes, customer reviews, content optimization and merchandise visibility.
A+ Content Creation
Experiential content and vibrant imagery are the keys to outshining your products. Our catalogue enhancement, as well as optimization, includes organising, standardising and publishing the product with rich, relevant, search engine optimised and product feature-focused descriptions.
Payments Reconciliation
Reconciliation has been an Achilles heel for business owners. Our intuitive dashboards keep an iron grip on your P&L with simplified and accurate reporting of each expense header & focus on leakage areas with consistent accuracy levels above 98%.
If you are looking for a Marketplace Marketing agency that understands the needs of your eCommerce business, check out GreenHonchos – a Full-Stack D2C enabler offering services like growth marketing, eCommerce digital marketing, marketplace management, social media marketing agency and much more! For more tips & tricks on eCommerce marketing and D2C growth strategies, follow us on LinkedIn, Facebook, Instagram and Twitter or visit our website for more information.