Posted on - February 16, 2022 | Read 7 min | By GreenHonchos Team
How Digital Marketing is
giving small businesses
an edge
In the past decade, the accelerated adoption of the Internet in everyday lives of people has led tool to reach new audiences on a global scale. Evidently, the future of advertising is Digital Marketing as it has revolutionised the way marketers advertise their products and services tors and region-specific businessesto MNCs and global brands, digital ads have become the leading means to measure campaign effectiveness.
Online marketing has become an economic and effective alternativetowards working with an expert Online commerce marketing agency that can help them achieve their desired growth with predictability.
On an average, there are 4.66 Bn people online to grow at a 59% CAGR to USD 17 Bn in gross merchandise value by 2025. People are becoming increasingly tech-dependent and 82% of people use their phones to make an online search before they decide to purchase from a store. In the same vein, 50% of consumers are inclined towards a particular brand if the name appears more than once during their search.
So now that we know about the importance of Digital Marketing for eRetail brands, it's time to learn how to hone D2C growth strategies using it. Here are the different domains of Digital Marketing:
Search Engine Optimisation (SEO)
Pay-Per-Click (PPC)
Content Marketing
Social Media Marketing (SMM)
Affiliate Marketing
Email Marketing
Inbound Marketing
Let's take a look at all these domains in a little more detail.
SEO (Search Engine Optimisation): SEO is the process of improving your website's visibility when people search for products or services related to your brand or organisation through search engines like Google, Bing, DuckDuckGo etc. These search engines use bots to crawl pages on the internet. Bots go from website to website and collect information on those pages, putting them in an index. This indexing helps search engines to show your webpage at the forefront of the search.
PPC (Pay-Per-Click): In Search Engine Marketing, PPC is a model of internet marketing in which the advertiser pays a fee each time one of their ads is clicked. Thus, the visibility is essentially free but for a website visit, you'll have to pay the required amount. PPC is the most popular form of SEM, allowing advertisers to bid for ad placement in a search engine's sponsored ad section when someone searches with a keyword related to their business. Using AdTech and MarTech, you can significantly increase your ROAS and maximise high intent lead generation.
Content Marketing: Content marketing is one of the most omnipresent types of marketing. It involves strategic creation and sharing of relevant online content such as videos, blogs, social media posts etc. to generate interest in a brand or organisation's offerings instead of promoting them. Content marketing is also seen as comparatively organic, which helps the brand in preventing outbound, 'in-your-face' advertising, thus, drawing them in, organically. Mainly, there are two main factors when going for content marketing – Content Syndication and Content Amplification.
Social Media Marketing (SMM): Simply put, SMM is using social media to market a brand's products and services. Social media is a great way to interact with customers, get a conversation around your brand, reel in organic views and followers and reach new people in a subtle yet effective way. Platforms like Instagram, Facebook, Twitter, LinkedIn etc are the most famous social media platforms as of now.
Affiliate Marketing: Affiliate marketing has made a big comeback ever since the advent of social media influencers. Many marketplaces and D2C brands have highly successful affiliate marketing programs. This form of eCommerce marketing takes the use of brand ethos and rhetoric, using the influencers reputation and audience-connect to provide traction to the brand's marketing efforts.
Email marketing: Email marketing, simply put, is the strategic use of emails to reach out to your audience and make them aware of your brand, drive conversions, ask for reviews and get engagement. Email marketing has a very high ROI of 4400% and is a great way to personalise shopping experience and communication for all segments of your audience.
Inbound marketing: In Inbound marketing, strategic, relevant & valuable content is tailored to delight and attract customers organically. This type of marketing relies on the customers finding your marketing efforts instead of you promoting them with the content they might not always want to see.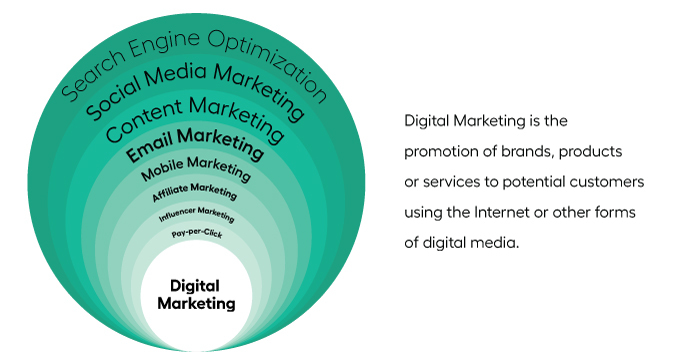 After understanding the different domains that can be used for eCommerce marketing and growth marketing of your D2C brand, here are a couple of arguments on what are the benefits of digital marketing for small businesses:
Enabling Customer Conversations – Social media platforms have enabled easy and instant communication between the brand and the audience. You can connect to the audience not only domestically but also internationally.
Content Distribution – In 2020, 2.5 quintillion data bytes of content was distributed over the internet. Millions of content pieces over social media and websites are created and distributed every day. This amount is increasing day by day and a marketer can leverage the highly organised routes to strategically work towards Content Amplification and the increase of ROAS.
Customer Information – When a customer comes online on a D2C website, they leave their digital footprint everywhere, unlike, say, at a brick and mortar store. The analysis of this data can help the marketer in accessing the likes and preferences of customers for creating an appropriate growth marketing strategy.
Personalisation and an enhanced consumer experience – Through Digital Marketing analytics, you can devise an eCommerce Marketing strategy that not only effectively communicates your brand's messages but also helps in product's personalisation and further an enhanced consumer experience.
Emerging Innovations – Digital marketing, powered by an ever-evolving MarTech & AdTech ecosystem enables innovations and emerging technology, leveraging them to create a D2C eCommerce marketing strategy that delivers on the key ROI metrics.
Looking to scale your business with an agency that understands the needs of your D2C eCommerce? Check out GreenHonchos – a Full-Stack D2C enabler offering services like growth marketing, eCommerce digital marketing, marketplace management, social media marketing agency and much more! For more tips & tricks on eCommerce marketing and D2C growth strategies, follow us on LinkedIn, Facebook, Instagram and Twitter or visit our website to know more about our services.