Posted on - February 20, 2022 | Read 8 min | By GreenHonchos Team
Make Social Media Your
Ace Growth Multiplier
Social Media has grown rapidly in the past couple of years. Currently, there are 624 million people in India who use social media, which translatesto come online and showcase their products and offerings.
Due to reach a wider audience and immerse them in marketing communications.
To reach a relevant audience segment, social media has also emerged as a greatto grow your business on social media and nitigrities of mainstream social media platforms.
Get upto speed on: Social Media Marketing
Simply put, social media marketing is using social media platformsto track the success of their efforts.
The biggest benefit of social media is that it can be used by micro and small businesses without employing specialists. Butto opt for an agency.
Learn how to implement Social Media Marketing
Social media has transformed the way we interact with each other and connect. People can have conversations with each other at a global level instantly by the means of text messages, images, audio and video. As technology evolves, we are stepping into converse, see and feel interactions and experiences in real-time at home.
Social media websites have also transformed consumer behaviour. Especially after the pandemic, people are looking at more and more ways to resonate with users.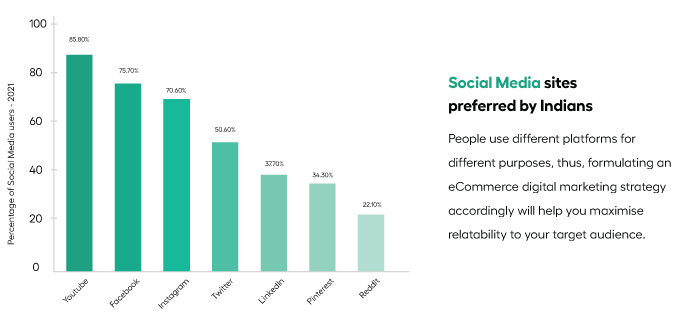 Social Media Marketing has an average ROI of 95% and if employed strategically, it can provide you a lot more than that. In order to scale brands online and utilise social media as a growth multiplier, brands majorly opt for a partner agency with deep understanding of eCommerce businesses and industry categories. It helps them achieve desired results efficiently and effectively while they focus on their core business area.
So what face to help you make a decision:
Strategy: From persona profiling to be shared.
Planning and Publishing: The Digital advertising agency that you are considering should plan drafts of their type of content, this should be a mix of pho to the platform.
Online Monitomers, and other stakeholders are saying about the brand should be the key priority of your social media marketing company. This way they can tailor content and drive engagement.
Analytics, Reporting & Insights: After getting all the necessary data and insights on your marketing strategy, you need to your growing audience's interests and behaviours.
Content Segregation: A good content syndication strategy should take into your target audience, resulting in engagement, conversions and brand recall as well. Here are a few ways how content should be guided on different platforms:
Facebook – One of the oldest and most crowded platforms on the internet, Facebook has evolved from young people's social playgroundto middle-aged and older people's preferred social media platform in the last decade.
Facebook is a great place to your brand's style.
Instagram – Second most popular after Facebook in social media, Instagram is the place to be if your target audience falls between 15-50 years old, including millennials and Gen Zs.
Instagram, now owned by Meta, the parent company of Facebook, has a great ad algorithm system which is quite inexpensive as well.
You can use multiple content styles like reels, stories, videos and image posts.
Influencer marketing is also mostly done through Instagram.
Twitter – Being a microblogging site, the preferred content of Twitter is text, however, you can feel free too.
Content strategies of brands like Wendy's, Zomator is very high as a lot of viral Twitter threads come out of Twitter.
A lot of co-branding activities can also be done over Twitter where different brands can keep the conversation going by retweeting and commenting on your tweet.
LinkedIn – LinkedIn is a place where people from all professions can connect and network. It's social media for work and for finding talent, connecting with your colleagues and employers etc. It's also where brands connect with brands and other businesses and communication shifts to B2B.
Content should be formal and pertainingto work or business.
The usual content which is posted on Facebook, Instagram or Twitter will not work on LinkedIn.
Brands can share their business accomplishments, employee activities, hiring news, case studies etc. on LinkedIn.
Are you looking for a Brand Marketing agency that understands the needs of your D2C eCommerce? Check out GreenHonchos – a Full-Stack D2C enabler offering services like growth marketing, eCommerce digital marketing, marketplace management, social media marketing and much more! For more valuable insights on eCommerce marketing and D2C growth strategies, follow us on LinkedIn, Facebook, Instagram and Twitter or visit our website to know more about our services.